Hey Jemima! So good to chat to you! Can you introduce yourself for us?
Hey! Sure, well I'm a third-year medical student in Brighton and I'm passionate about holistic living and encouraging others to live holistically too. I believe that we've all been given different gifts and talents that we're naturally good at – essentially living to encompass all things you enjoy.
Amazing! Sounds more like a thrive don't survive outlook. So good, especially during lockdown! What kind of content do you create?
I started out on a blog called Healed to Heal. Originally it was a good way to share about my life as a medic and how my Christian faith comes into that, but now it's grown to include my other interests: dance, worship, evangelism etc. My first ever post was called 'I am not my niche' and it was all about how our identity is found in Christ and how that needs to be the foundation for our lives. It struck a chord with a few people and then it launched from there! I'm still carrying on writing for the blog, but I've also recently started a YouTube channel as well as specific Instagram. I find that each platform has a different purpose, so it's all about tapping into each of their uses and building it from there.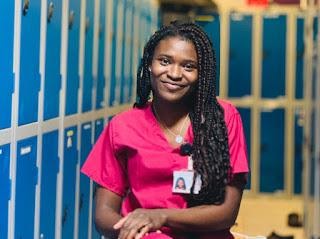 What's your purpose behind the platform?
The whole ethos behind HTH is that God is the ultimate healer: physically, emotionally, spiritually and mentally. I don't think it's a mistake that I've ended up in a career that is essentially a healing profession, but I want to live that out in my personal life too. It's about taking my own experiences, the good, the bad, the ugly and using it as a way of sharing how God is continually moulding and shaping me to serve as an encouragement to others. Healing is far more than alleviating physical pain. We can find our strength through healing, from learning to be resilient and learning through tough situations so HTH is all about being a voice to that process.
One specific example I'll share is that during my A-Levels I lost a lot of my friends. Rejection cut deep. Yet over time I found my own healing and I now share that story to enable others to heal as well. People reached out and said that they resonated with my story, which was a massive boost and felt like what I was writing about was very much at the right place at the right time. So many people are feeling drained and negative during lockdown, so my latest YouTube video was all about counteracting the negativity and focussing on the positive like practicing gratitude. It's all simple stuff, but rarely talked about within society.
What would you say some of your struggles have been?
When you put a lot of effort and energy into a post and it doesn't get the reaction you expect, sometimes you can start second-guessing yourself. You can start asking questions like 'was it worth the time', 'did anyone enjoy it' etc. However, I learned that God reminds me about the bigger purpose of it all in those moments, and I try not to get too bogged down in the stats. Even if it just reached one person, that makes it worthwhile for me. Putting yourself out there and making yourself vulnerable with what you're sharing can feel pretty scary – but people really appreciate vulnerability. It's about building that connection, even online.
What pearls of wisdom would you share that you've learned along the way?
Ask yourself: what is the gap in the market? Thinking from a business perspective, consider what needs there are that aren't currently being filled and take it from there. I didn't see huge amounts out there about being a medical student and a Christian, so it was about combining the two. The whole premise of my blog started from a conversation with my Dad, chatting about how the online world is so negative, especially on social media. His answer was pretty much encouraging me to change the game and share in a positive light, and that was that! I felt that there needed to be a culture shift, so I prayed about it and then I got the idea of starting a blog – it was like a seed had been sown. Prayer is key, at every stage of the process.
From a practical perspective, don't waste your creative bursts. Sometimes you'll get an idea at the strangest time, so pull out your notes on your phone, jot it down or voice note it. Staring blankly at an empty page waiting for inspiration feels intimidating, so having some thoughts to run with makes it all the easier. Also learn the shortcuts when editing videos! It'll save so much time and effort, and I find doing it in stages over a few days before you release it works for me.
Where would you like to take this in the future?
Over the past few months while I've been revising, I've had less engagement with social media, and it's prompted me to think about where I want to go with this. Essentially, I am driven by what I feel God is urging me to say and do. I aim to follow what God is saying and what people are experiencing, so I try to tap into that. One of my goals is to grow through meeting interesting people and creating opportunities for networking, particularly within the medic circles.
---
To find out more about Jemima, check out the Healed to Heal Instagram page.